About the project
Gerduva is a company of household products having long-lasting experience in trade. Currently, Gerduva operates as many as 14 physical shops throughout Lithuania, engages in both retail and wholesale trade, and provides prompt and effective customer service in their e-shops. The product range of Gerduva has everything you need for a clean and cosy home.
Problem
Undoubtedly, long-standing business requires regular maintenance and updates. A growth in the number of consumers, especially in the e-shop, generated the increased demand for its professional maintenance and development. Business expansion generated more ideas with the aim at realising them in the electronic space, and it became necessary to automate as many routine business processes as possible. To achieve these goals, the internal team lacked certain technical skills and a quick reaction to problems arising in this area.
Solution
After speaking with the team of Gerduva and determining their needs and vision for business development, we decided to form a dedicated team. The team of a developer and a project manager worked together to ensure smooth communication, professional and fast performance of tasks. Together with the team of Gerduva, our experts helped the clients realise their ideas and come up with new ones. Whenever necessary, more developers were added to the dedicated team so as to provide every customer with all the assistance necessary in IT area.
Services rendered
In cooperation with the team of Gerduva, the e-shop has implemented many new functionalities and improved the existing ones. We identified safe and comfortable browsing as one of the top priorities; therefore, we upgraded the Magento version and optimised the Jenkins process that enabled us to upload changes made into the productive environment in just 4 seconds after turning the e-shop off.
Because Gerduva engaged in both retail and wholesale trading, it was necessary to ensure fast and convenient export of goods to customer databases. We used a XML document that makes it easy to modify the list of data and transfer it to the necessary e-shops. This solution was adapted for exporting goods to the e-shops of Varlė.lt, pigu.lt and Senukai.lt, and to the price comparison portals of Kaina24.lt and Kainos.lt.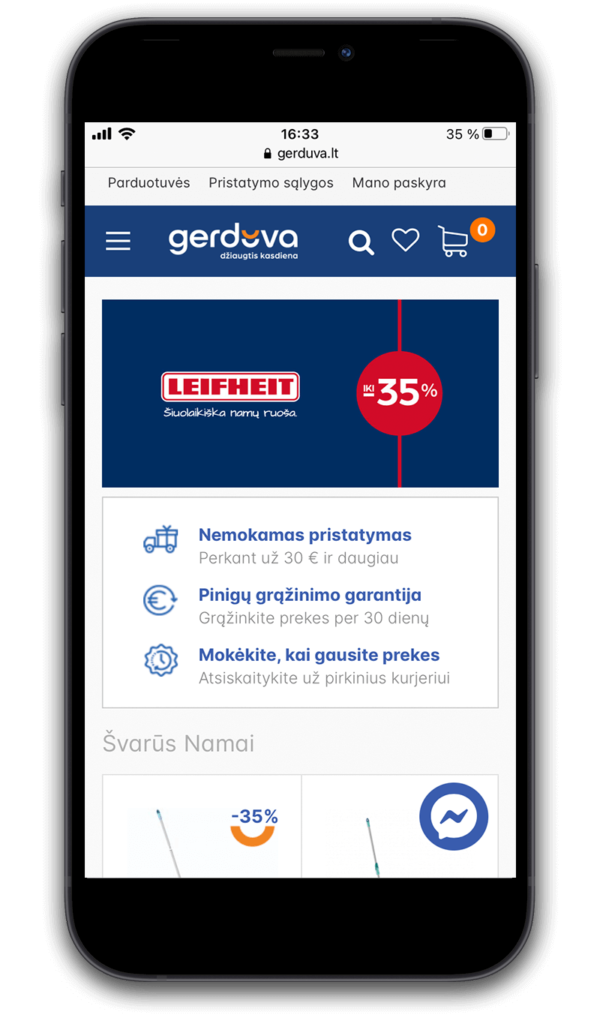 In order to automate routine business processes as much as possible, it was decided to integrate Rivile Accounting System. In this case, the integration involved two stages. First of all, the integration of Rivilė was performed when the residual stock, prices and discounts from the accounting system are updated in the e-shop in real time. After implementing the second stage of the integration, information about the orders is transferred from the e-shop to Rivilė. As Gerduva also has physical shops, the logic of its departments has been implemented that helps in notifying the employee of that department, which must ship an item purchased in the e-shop.
In order to give customers of the e-shop the best possible experience, it was decided to install an extra payment option with Swedbank Bank Link, which enables fast and convenient payment for the goods by both internet bank and payment card. The integration of Google Analytics for e-commerce was performed in order to ensure collection of the most precise data on e-commerce. In this case, integration enables you to collect useful data on current orders and other user behaviour. In addition to these tasks, we have realised a reminder of left baskets and other functionalities improving customer experience in the e-shop of gerduva.lt and increasing sales.
Results
In cooperation with Gerduva team, we implemented those IT solutions that helped in improving the e-shop. The functionalities implemented have enabled us to refuse manual labour in various routine processes and to optimise them, while customers receive better experience. Set-up partnership has increased sales of the company and the number of e-shop visitors has grown by almost 4 times.
Customer's word
We are very happy that the kiro.tech team undertook the development of e-shop gerduva.lt. All website issues were resolved quickly and swiftly. The team constantly offers their insights, opinions and contributes towards e-shop improvement. We are very satisfied with the team performance so much that we entrusted them to update another project that we were developing – ievosksanestai.lt. We can highly recommend the kiro.tech team to anyone looking for high-quality work and open communication throughout the entire process.
Martynas Mazalas, Product Manager of Gerduva